Well manometer MIKON-107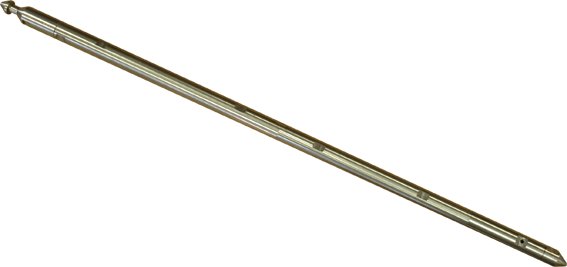 Overview
Electronic pressure-gauge-thermometer is designed for recording changing in time pressure and temperature values along the well shaft and/or in any of its points, e.g. at a face during recording the pressure value recovery curve. The pressure gauge data will be transferred into computer via the standard serial port RS232. Then such data will be processed by the computer and may be printed out in a graphic and text form. Data registered by the pressure gauge will be stored in the non-volatile memory and will not be lost in case the battery failure.
Functions
It is equipped with a real time counter which enables synchronization of a several instruments;
permits presetting of delay before it turns on;
enables measurements in case of exceeding the preset pressure value;
controls the battery status;
permits to preset periods of pressures and temperature measurements (table of time intervals);
it can be run in a well on a special wire, seismic cable or a pipe;
capable of connecting supplementary weights;
can be used jointly with the electronic velocity and position counter MIKON-123 for the purposes of recording pressure and temperature along the well shaft.
In addition to standard set there is available the microcomputer (Pocket PC with Windows Mobile) for tuning and reading the data from the pressure-gauge-thermometer.
Brief datasheet
Max allowed pressure measurement, MPa
16; 25; 40; 60

*

Allowed reduced error of pressure measurement in the working temperature range, %
0.15
Resolving pressure capacity, MPa
0.001
Minimal measurement time, sec
1
Measurement interval between points of recording (user's choice)
unlimited
Non-stop operation time, days
up to 45
Capacity of memory and measurement points
130,000
Time of non-volatile storage of records
10 years
Operating temperature range, degrees C
-25…+100
Power source: accumulators (AA 1.2 V) or storage batteries (3.6 V), units
2 or 1
Overall dimensions:
- Diameter, mm
- Max length, mm

25
860
Weight, kg (without load)
2
* Special option